Our 2022 Annual Conference is quickly approaching!
Through the the generous support of our sponsors, MHA-SWPA continues to provide opportunities for professional growth, with expert speakers on compelling topics regarding behavioral health and wellness.
Our target audience is Mental Health Professionals, Counselors, Social Workers, LPCs, Nurses, Peer Specialists, Certified Recovery Specialists and Community Members.

At this time, we are able to offer continuing education credits at no additional charge for Mental Health Professionals, Counselors, Social Workers, LPCs, LMFTs, Nurses, and Peer Specialists.

We are now also able to offer scholarships to individuals with lived experience, and student discounts are available.

For limited sponsorship, program ad, and scholarship opportunities as well as student discount information, please contact us at 724-834-6351 or conference@mhaswpa.org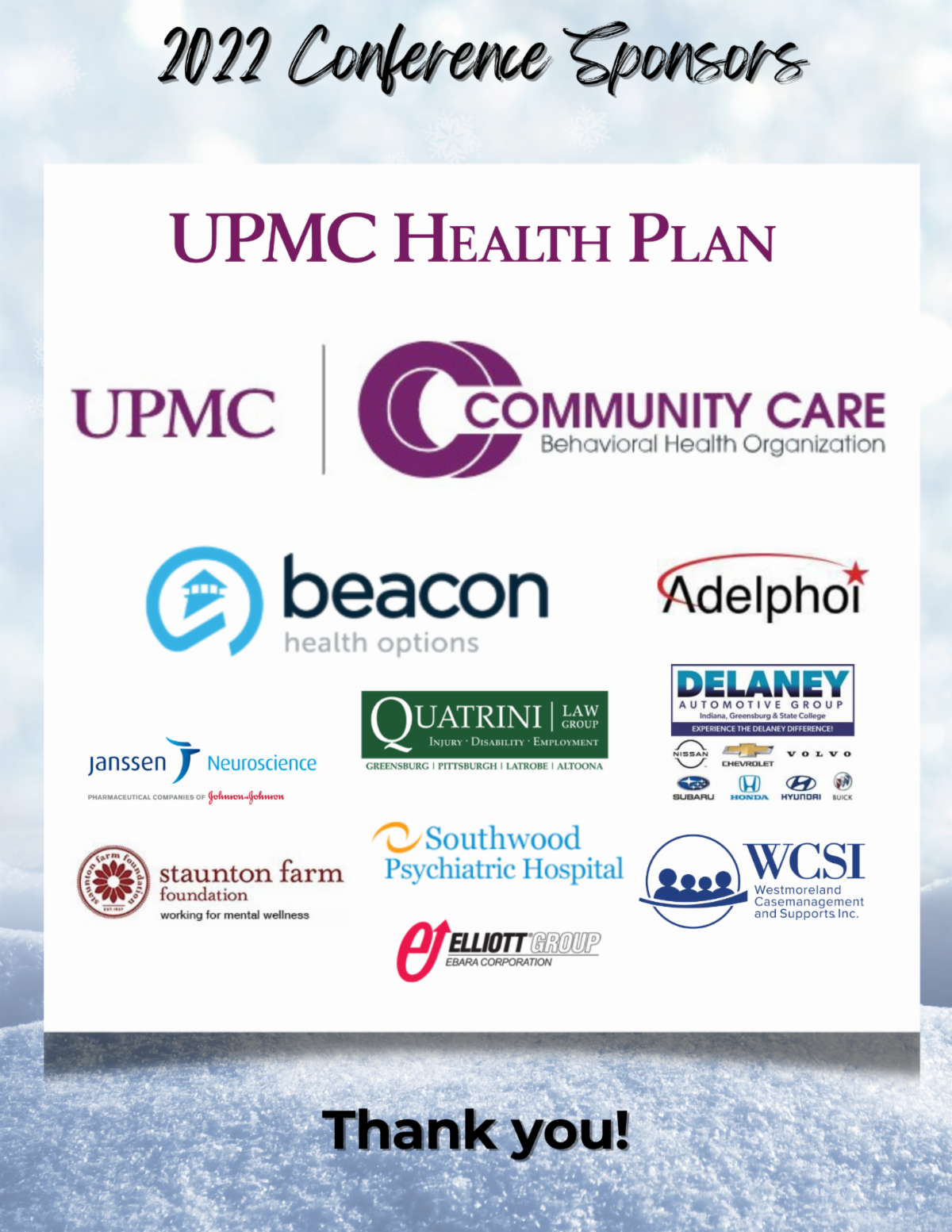 Need Support?
Join MHA-SWPA for our Support Groups
Online Screenings: Test Your Mental Health
Do you not "feel like yourself?" Are you going through some difficult life changes? Have you noticed shifts in your feelings, thoughts or behaviors? Take the mental health screening below to find out if you should seek additional support.
National MHA's screening tool currently hosts 9 screens: Depression, Anxiety, Bipolar, PTSD, Alcohol and Substance use, a Youth and Parent screen, a Work Health Survey, and a Psychosis screen. Your score does not indicate that you have one of these diagnoses, simply that you may have some of the uncomfortable feelings associated with the disorders.
Once you have taken the screening and received your score, return to the MHA-SWPA website for additional resources.
Next steps following your screening:
If you or someone you know is in crisis now, seek help immediately.  Please refer to our HOW TO GET HELP page for local and regional resources or dial 911 for immediate assistance.
---
Mental Wellness Information:

Pennsylvania 211 Service
PA 2‑1‑1 Southwest is part of the national 2‑1‑1 Call Centers initiative that seeks to provide an easy-to-remember telephone number and web resource for finding health and human services
Donate to MHA of Southwestern PA
Your Generosity and Support can help improve the lives of those impacted by mental illness. We hope that you can help. Members will be recognized in our Innovations program booklet. Membership year is January 1 to December 31; donations made now will be credited towards the 2022 calendar year.